What's been happening to Hambali? Anyone miss him?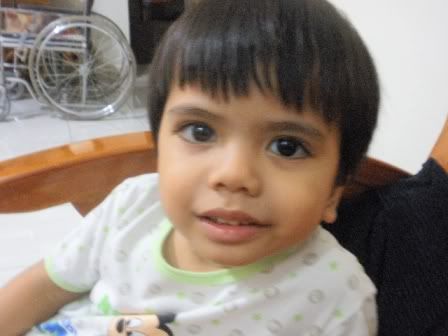 His latest looks...less chubby...
He's getting cheekier, throwing tantrum on and off and yet he is a self-learner. Self-motivated I must say. All I need to do on stimulating his learning endeavour is by constant videos watching, plastered lesson posters surrounded his bed and make books available within his reach, he is well-off on progressing on his own.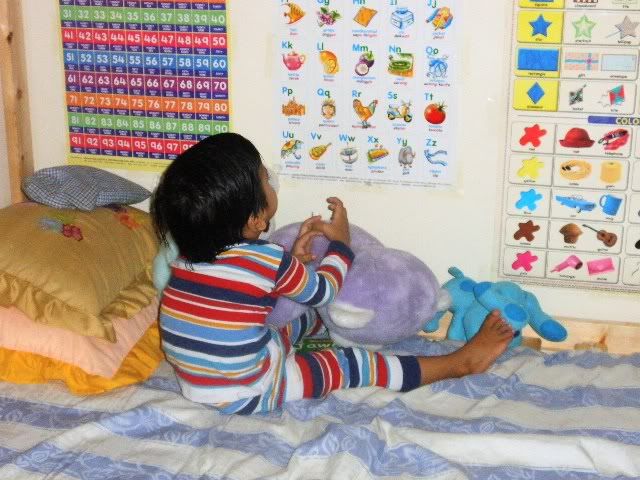 To date, at 32 months old, his learning progress is:




Alphabets

- singing the famous ABC song, recognize both small and big letters without fail. Only mispronounced 'w' and 'x' which sound like 'bubble-u' and 'esk'


Numbers

- rote-counting 1-15 and occasionally missing number 13, does know counting things, able to relate counting with number recognitions.
Colours

- knows yellow, red, blue, green, black, brown, white, orange without any confusion at all
.




Shapes

- he is so into shapes lately. Knows circle, square, triangle, rectangle and oval. Only mispronounced 'rectangle' like 'whatever'

(no kidding :D)

and 'triangle' sounds like gibberish but we do know he refers that to triangle.
Jawi

- Surprisingly recognized all Jawi letters too and we don't even taught him this. Merely plastered poster and switching on Jawi videos constantly.
self-occupied with his own world

His favourite activity nowadays is this.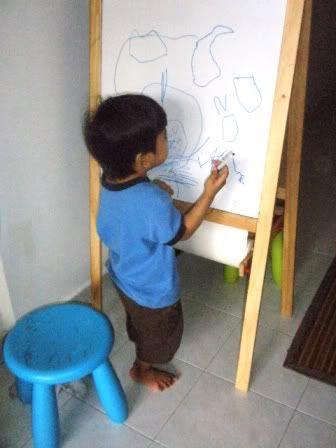 Next, I will displayed his art masterpieces and there was even one drawing by him that looks like human being (the orang lidi)