Hanafi told me that he wanted Iron-Man mask for his birthday this time and Mama still searching high and low, scratching her head what should we give him, than the requested mask to a boy who just turned 7.
We recently purchased bunk bed from IKEA, he loves it and he is going to share his bed, his room, his stuff with his little brother, Hambali. Not easy though because all this while, he thought whatever we bought for him is just for him including his room but we kept emphasising that soon, they going to have another addition of TheHoneybunch, so better get prepare and hoping that eventually they will be ready especially Hambali, whom it is about time to separate him from our small bed.
Hanafi just received his OKU card two days ago and we are still learning and familiarizing what this card hold to us.
Apart from that, as you know that Hanafi supposed to start schooling this year like standard age in Malaysia, nope, he is not doing so and he is still homeschooling. With much objection from our both sides of family.Though, my flexi-hour planned being backfired, now, I, especially with so much help from dear hubby, dedicated my nights about 1 hour or so to teach him and weekends definitely more time allocated for this.
Hanafi stopped his e.Nopi maths and started his Art Class instead. We keep looking for other means like classes and teaching aids and wanted to add more in his HS Syllabus.
At present, Hanafi's lesson goes like this:
8:30am to 11:00am - Kelas Agama Rehal. Now, Tahap 2, learning Ibadah, Arabic, Feqah, Al-Quran & Tajwid and others in this context.
11.30am to 6pm - At Nursery with Hambali too
8/8.30pm to 9/9.30pm - Homeschooling
Current Lesson :
1) English - continuing reading Peter & Jane, at present book 7B, copy-writing from rhymes/poem books, comprehension exercise from workbook, introduction to grammar, impromptu spelling, reading project plus dictionary introduction will start this weekend.
2) Bahasa Malaysia - reading lots of story books and comprehension exercises.
3) Maths - Multiplication along with Money sense
4) Science - more to practical & understanding based on surrounding & emphasising done through workbook.
I wish I could do more but we have to polish his understanding and maturity level first as at most he is independent reader, able to sound the words correctly for both languages but it's the understanding hiccups that our main concern. He is struggling in terms of understanding based on acquiring knowledge from reading.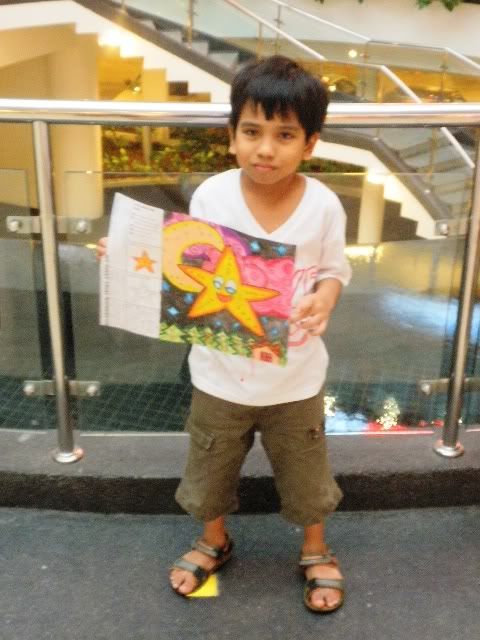 And, to make him be more creative and encourage him to think outside from box, that is one of the reason we send him to Art Class. He is very practical and rigid type of boy and we wanted him to be more flexible and carefree, one of the way curing him from his autistic syndrome.