I have promised
a friend
to send her an email on giving some suggestions the suitable toys for her 8 months old daughter as she wanted to avoid buying common types like doll for her little girl and wanting something that can enhance her daughter's development.
So, rather sent email, I think it is better I've shared that in here instead so others can benefit it as well. Read on.
Hanz's Note : Those toys featured here been with us for 6 years at most. Bought for our eldest child and being passed down for his younger brother and soon the newborn. One thing to remember, it is essential to invest toys that are durable and sturdy as it can last long and are not easily broken. Always check the safety standard but most well-known toy manufacturer will follow the standard safety and should be safe enough for your child. It is unnecessarily that you must get the same brand or the same toy like in the pictures. Those picture of ours are merely some guides and suggestions based on the purpose the toys being created.


6 – 12 Months
By this time babies are usually able to sit by themselves and are learning to crawl. They will also be learning fine motor skills, such as pinching and grasping objects with just two fingers. So you'll want to provide baby with a variety of toys to play with in all shapes and sizes to satisfy the growing curiosity and need to explore. Soon enough, they like to make things happen – they enjoy pushing a button and hearing a song, or seeing something light up. Having the ability to interact with their surroundings is very exciting and once they find something they like, they do it over and over again.
1) Sensorial & Fine Motor-Skill : Colourful objects that suits tiny hands with different textures on its surfaces should be selected by parents. Especially if the toys can be manipulated by twisting, turning, princing, grasping and pinching.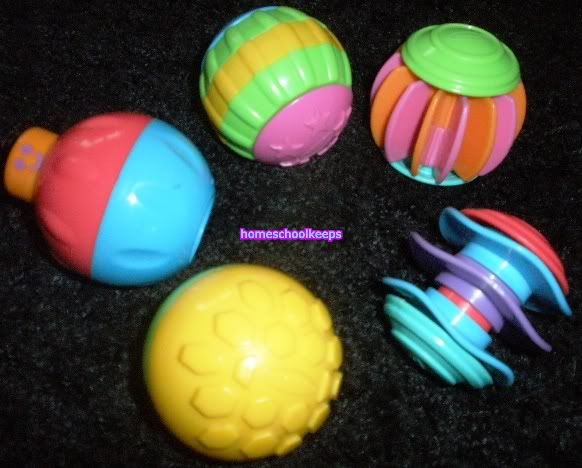 Note : This 5 textured balls manufactured by Playskool. Good for dexterity sensorial.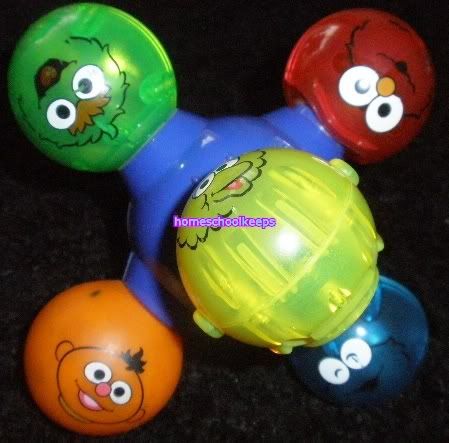 Note : We love this 'Atomic' toy by Fisher-Price. Definitely for fine-motor skills. Everytime you do something of each ball, a distinctive sound could be heard.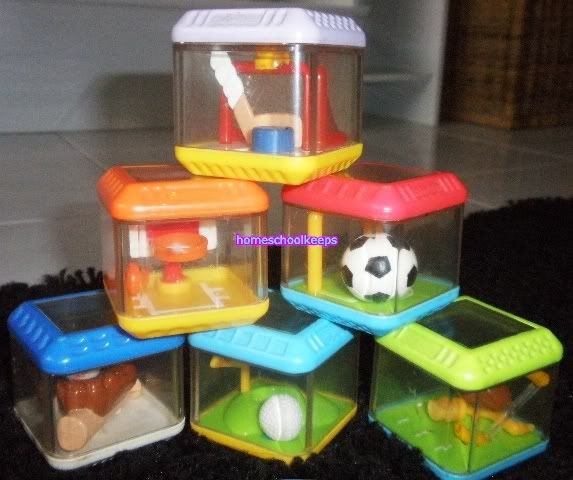 Note : This one too by Fisher-Price. Child will learnt different ball games in there!
2) Reasoning Toys: Baby can now understand that an object is behind something and the idea of nesting objects. Encourage the use of reasoning skills with toys and games that make her think. Be sure to celebrate when she figures them out!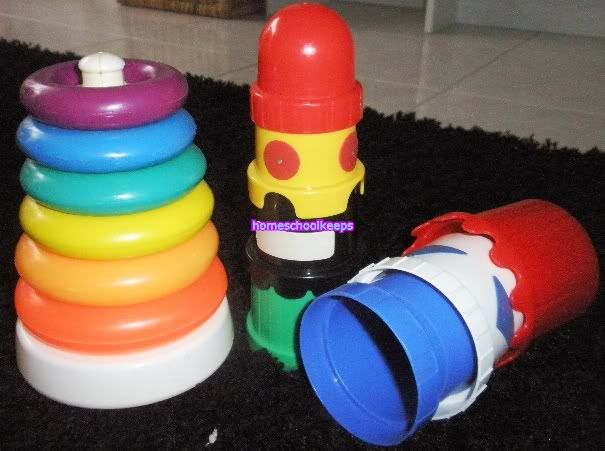 Note : Stacking Cups & Stacking Rings are definitely classic toys! Stacking Ring by Sassy and Stacking Cups by IKEA.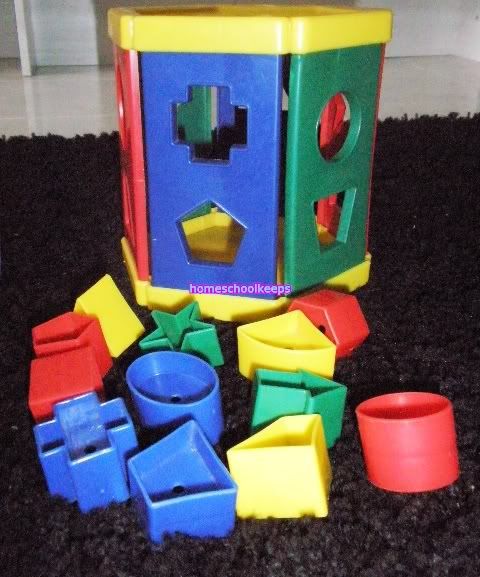 Note : Learning shapes the fun way! Many brands available in the market.
3) Physical Development Toys: Encourage baby to use her body in new ways by providing toys that require her to move and stretch. Balls are great because you can make a game of rolling them back and forth, as are toys on wheels that move away from her so she'll have to chase them.
Note : Go for soft and squishy ones toys with wheels like above. On the left manufactured by Playskool and on the right by Sassy.


4) Interactive Toys: Babies can now interact with their toys in a way they weren't able to before. Anything that responds in some way to baby's actions or makes a noise will become fast favorites and will teach baby about cause and effect.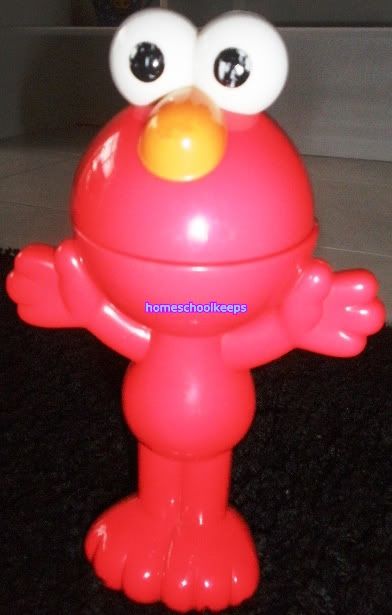 Note : We love this 'Talking Elmo' by Fisher-Price. Shake Elmo and many different sounds will come out. Elmo can sing la,la,la, ticklish giggling, say 'Hello', say 'Giggle with Elmo & say 'Let's Talk'
5) Language Development Toys: Baby is now able to say simple words such as "no" and "eat". Encourage her growing vocabulary with toys and games that develop language skills. Great options are toys that say words when a button is pushed or videos that focus on language development. Fabric or board books are also good because after reading the story you can give the book to baby to flip the pages and "read" it back to you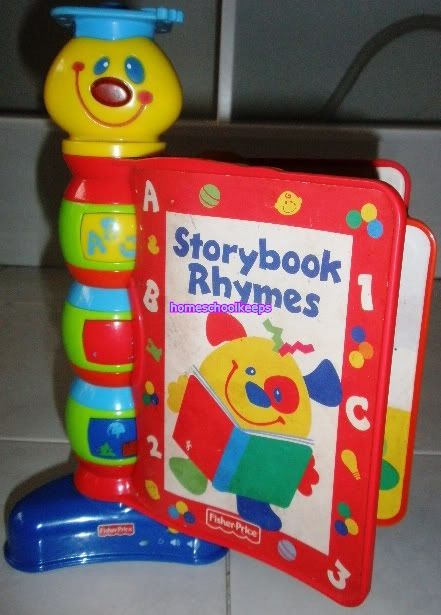 Note : Interactive electronic books by Fisher-Price. Press many featured buttons and child will learn ABC, 123, shapes, colours and sing-along Nursery Rhymes.



6) Role Playing Toys: They watch you and will want to start mimicking the things you do. Toys such as play telephones, brooms, shopping carts and steering wheels will be a big hit and will help baby explore the world of make believe.

Note : Puppets are good and parents can play along with child.
7) Bath Toys: Now that baby can sit up, she'll begin to be more active during her bath. This is a great time to introduce water toys that encourage baby to learn about water. Squeaky ducks, cups to fill with water and empty again and anything else that is water safe and easy to hold can provide lots of entertainment.


Note : Bathtime with floaty books. Available in major bookstores.
Always keep safety as your top consideration when choosing toys. Nowadays, it's much easier to choose age appropriate toys, since most come with a suggested age group on the label. Remember, a toy should not just be about fun, but nurture learning and development.