Hanz's

: Another trip done year 2009.
So many things happened last Saturday.
Hanafi & Mama went out early morning for our date. Papa sent baby Hambali to Opah's house, then us to LRT Bangsar before headed to Customer's site. Another Saturday working for Papa. Wish baby Hambali is big enough so that we could include him as well but ah, well soon ya, Adik!
Hanafi had his first experience boarding LRT & Komuter when he was just a tiny baby so he could'nt recalled how it was like. This time, I have explained to him what is to be expected & what's needed to be done. Here's some notes I guided on him:
1. Stand behind the designated (yellow) line for safety while waiting the train arrive if you are unable to find a seat at the station. Queue, wait for the train to open its door & let the passengers came out first before entering.
2. Do move towards the rear of the train to make space for incom
ing passengers. Courtesy and consideration for others is always appreciated.
3. Do hold on to the grab poles of handgrips when standing in the buses or trains.
(Lucky us we don't have to stand too long on the route KLSentral-Seremban & not even standing from Seremban-Mid Valley)
4. Don't run or play in the stations, interchanges and trains. It is dangerous and you may get hurt.
(I told Hanafi the total on ports / stations that we will passing through before reaching Seremban. He had fun counting all 13
& delighted with scenery watching)
5. Don't talk or laugh too loudly in train - these are enclosed spaces and you will disturb other commuters.
(I shown him quiet time like reading is good. I continue reading Breaking Dawn, perhaps next time round he can bring his favourite book too)
6. Don't eat in the stations, interchanges and trains. We must keep our trains clean and free of litter!
Don't want to overwhelm him too much with do's & don'ts. Afterall he is only 5 years old so I think those 6 guidelines was sufficient.
:>
Upon reaching Seremban safely, we grabbed 2 packs of biscuits. Boy, were we so famished due to the long ride. At Wan & Atuk's house we did'nt stay long in fact we skipped Wan's lunch. Unfortunately though Hanafi had to endure minor pain just in the nick of time when we were about to leave my folk's home.
He stumbled while dawdling at the lawn & had his nose hit the stone-made lounger set. Blood gushed tremendously & so happened atuk & wan's house was out of ice stock! Quickly I took my Ice Cold Pack from my EBM Cooler Bag & patted gently over the bleeded areas. Half an hour of Mama's rescue mission before we rushed to the nearby clinic.
It turned out that Hanafi's nose had a small cut & a small bump above his upper lip. Alhamdulillah, no concussion or anything worse than that. At first after that accident I thought I just want to head home but since I have being promising Hanafi to bring him to a cinema & watch Transformers 2, I just kept on praying things will get smoother & proceeded with the actual plan. From time to time I kept asking Hanafi whether he's having any pain, headache or nausea. He confirmed all negative.
On the way back to KL, Hanafi slept on my lap while I continued my Breaking Dawn reading. Oh, almost finishing...Clearly Hanafi was exhausted & probably shocked. Pity him. Of all this commotions I even forgot to snap any pics only when we reached Mid Valley & straightaway headed to The Gardens, I remembered The Camera! Darn!
We watched Transformer 2 : Revenge of The Fallen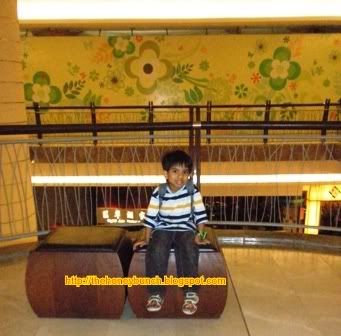 Hanafi posed for a while before the movie starts. If this picture was close enough, you can see the faint blood stains...
Can you spot the difference between the above pic & below pic? Yahh..Hanafi changed clothings. Double-layered for double protection. It was freezing cold inside the Signature Cinema. And, Mama was unable to bear Hanafi kept on wearing the blood-stained shirt & lucky there was an Isetan Sale at The Gardens. Grabbed 2 shirts & worn on him immediately!
Munching on Large Bucket of Popcorn. Real-cinema experience, eh Hanafi? Well, I did provided him some guidelines too while being here...
1. Sit quietly and concentrate on watching the movie. Talk is allow but only in whisper and if you must laugh, go ahead but a loud guffaw could be annoying. So just keep it down with a quite chuckle unless the whole audience is laughing too.
2. Parents must ensure age-appropriateness in selecting movie for your child. Don't expect him to stay for 2 hours stretch in the dark & enjoying every minute of it if you have choose heavy drama or romance and such. Cartoons and what children are so INTO nowadays like The Transformer is your safest bet.
3. Snacking is allow & go for light snack & let your child have the total cinema experience like snacking on popcorn. Ensure that your child is not staying there with an empty stomach or fussiness might spoil the mood.
4. Bring some jacket or sweater. It can be very cold for little children to sustain. As Hanafi was wearing double-layered & long-sleeve clothing, he was warm enough.
5. If the child must go for 'Nature's Call', go ahead and let the child know how to walk out & later walk in quietly. Let the child knows how to excuse himself if he must pass through other audiences. For us, we took two-seater on the sideline so there's no interruption & I did asked Hanafi to ease himself prior the movie started. So, no disturbances!

:>
Hanafi was enjoying himself and though he's totally exhausted, he look forward for our next movie date. Harry Potter perhaps?